Seward's Guest House -Location-1502
This vacation rental features perfect accommodations for families or larger groups.
Locations 1502 & 1503 are two suites that each have 2 bedrooms, a fully equipped kitchen, and a living room.
Each suite has one bedroom with a custom queen bed and one bedroom with 2 twin beds. Plus, the living room has 1 queen Murphy bed. These spacious suites have cable TV, internet, and nice Alaskan decor. All linen, towels, pots, pans, dishes, etc. provided.
Quiet and completely private, secure outside entrances and off-street parking. Location 1/2 way between downtown and the boat harbor (one-mile distance) makes it easy access to either.
Makes a wonderfully comfortable and clean home away from home—great views of Mt Marathon.
An entire two bedrooms unit (1200 sq ft) is ALL yours, located in a safe & walkable neighborhood. Spacious, light-filled, private apartment in a historic home in the prime location of Seward Alaska. Sleeps six comfortably with two queen-size beds, and two full-size twin beds. Fully equipped kitchen. Private entrance.
✔ 5 minutes from Downtown
✔ 9 minutes from Alaska Sealife Center
✔ 5 minutes from Small Boat Harbor
✔ 25 minutes from Exit Glacier
✔ 15 minutes to Lowell Point or Millers Landing
✔Discount on tours with Kenai Fjord Tours and Major Maine Tours
Bedrooms with comfy beds and beautiful linens for relaxation
Clean bathroom with an on-demand hot water heater and plenty of towels
Plenty of parking for a vehicle of any size, including a boat in tow
Living room
Fast internet & tv
Charcoal Barbecue in the backyard
Extra heater and fan if needed
Windows and doors with screens for a nice breeze when needed
Calendar
The thorough cleaning process includes the use of UV light and ionizer between guests to help remove any possible germs.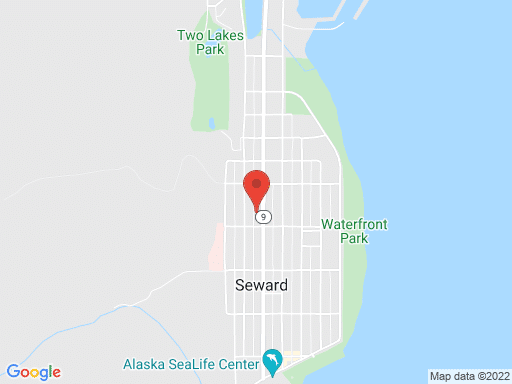 Book your Exciting stay at Seward's Guest House now for the best experience in Seward.
You will always be eager to return to Seward and your personal vacation rental.
Seward's Guest House, Vacation Rental In Seward Alaska is your lodging in Seward Alaska.
Book your Place in Seward, Alaska.