Sunshine Hut in Seward – Location 1534
Welcome to Quonset hut Sunshine hut located in Seward Alaska United States. A stay in this exciting place is guaranteed to be something extraordinary. Will make your vacation remarkable during visiting Seward.
Rental in Seward is located at 408 Sixth avenue, with easy access to downtown Seward, Alaska sealife center, and Kenai Fjords National Park.
Calendar
This dazzling and almost perfect place will amaze you with its trendy finishes as it has been recently updated inside and out following complete modern styles. Not only the infrastructure is amazingly built, but also the inside of the hut is equipped with vintage luxuries.
Enjoy your fun days of life at Sunshine Hut – your home in Seward while lying on queen size bed. In case you have a family along with you on vacations then two-click clack sofas are also available that fold out into double beds for them. It is equipped with a master bedroom and a beautifully clean bathroom.  The space is neat and tidy. A generous and spacious kitchen is also available where you can cook your meals. It has a stove, coffee maker, Microwave, all the cooking basics utensils, oven, refrigerator, dishes, and silverware. An expansive bathroom is present with shampoo, shower gels, washer towels, soap, toilet paper, and paper towels.
Vacation Rentals in Seward
What could be more picturesque than overlooking the beautiful views and walking distance of Resurrection Bay and the surrounding mountains from the backyard while you enjoy food? This move-in ready hut is provided with ample space to live in comfort without the feeling of congestion. Wake up to the impression of waves spills every morning as this adorable site is located less than a block from the ocean and two blocks from the historic downtown. Unique Seward vacation stays lodging.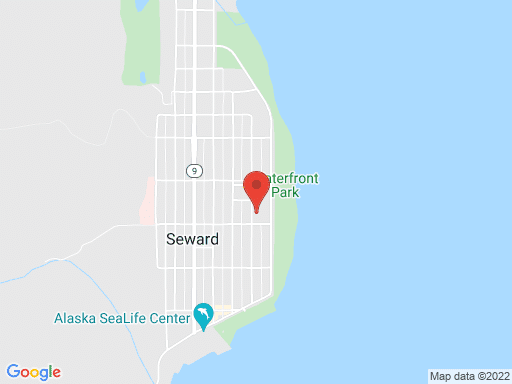 Besides its cozy, super neat, and trendy design, it is also provided with the basic amenities as well as the latest facilities which include heat to keep you warm during the cold winds of the ocean. Wi-Fi service is available to keep you connected with the internet and cable TV so that you don't miss out on your favorite TV shows. A fantastic feature is a provision of a table or desk with space to provide you laptop-friendly workspace. Other essentials such as hot water, an iron, a hairdryer, extra pillows and blankets, bedsheets, hangers, and bed linens are also offered, so you don't need to pack lots of stuff. All of this makes it one of the best places to stay in Seward.
Perfect for Seward Vacation Stay
It is a casual single-level home with no stairs, and free street parking on the premises is also available so no need to stress out.  A private entrance into the house from the separate street is also accessible. Your easy access is a breeze with only 4 digits code. Safety is the main priority for our guests with the carbon monoxide alarm, fire extinguisher, and smoke alarm. One of the Best Seward vacation properties
The most exploratory fact is that it was used by the military during World War 2 and again after the 1964 earthquake. In 2020 this place has remodeled. It isn't easy to list all the indoor and outdoor highlights of this stunning home. Plan a visit today!
Book your Quonset hut now for the best experience in Seward. You will always be eager to return to Seward and your personal vacation rental.
Discounts on Tour reservations with Alaska's Point of View.
Sunshine Hut In Seward Alaska is your lodging in Seward Alaska.
Book your Place in Seward Alaska.