This home has something for everyone, with three units that all have private entries and private baths.
It is located only one block from the boat harbor, where all tours and fishing charters leave from. Location 3631 is a studio suite with a queen bed and a twin bed. There is a small kitchenette that includes a small refrig, microwave and kitchen sink.Location 3632 is a deluxe two room suite. In the bedroom there is a queen bed. In the living area there are two twin beds and a full kitchen. Location 3633 is a three bedroom unit with a full kitchen, living area and one bathroom. One bedroom has a queen bed, second bedroom has two twin beds and the third bedroom has a two twin beds. New room added in 2019 is a small room with a queen bed, private bath, and private entry.
The amazing beauty of Seward can be viewed right from your hut. Mt. Marathon is visible from the front and Resurrection Bay and the Chugach Mountains from your private back deck. Whales, sea lions, and other sea animals are not far from your sight. A perfect location for anyone wanting to experience Seward, the real Alaska. A hike in the mountains or a stroll to the harbor for fresh seafood is an excellent way to enjoy your Alaskan experiences.
Everything in the hut is prepared perfectly for your comfort. It's clean and well-equipped to meet your every need. While you may think a WWII Quonset to be old, this hut has been remodeled with a modern and cheerful facelift, which makes it very unique anywhere, including Seward. You can and will experience America's history in comfort. It has all the comforts of home to satisfy your basic needs and more.
Well-equipped kitchen for all meals, includes full-size refrigerator, stove, dishwasher, sink, table and chairs, coffee pot with everything to make coffee, blender, toaster, dishes, pots, and pans, etc
Bedroom with comfy queen bed and beautiful linens for relaxation
Queen size futon in a back room off the bedroom
Clean bathroom with an on-demand hot water heater and plenty of towels
Plenty of parking for a vehicle of any size, including a boat in tow
Living room that includes extras like a massage chair (a highlight of many guests)
Fast internet & tv
Washer and dryer
Coffee table and bar
Charcoal Barbecue in the back yard
Extra heater and fan if needed
Windows and doors with screens for a nice breeze when needed
Discount on tours with Kenai Fjord Tours and Major Maine Tours
Thorough cleaning process includes the use of UV light and ionizer between guests to help remove any possible germs.
The unit is decorated with unique artwork that is displayed throughout the hut. It is truly rare to find a perfect vacation home like this Quonset hut. Checking in and out of the hut is easy and straight forward. There are only 3 steps on the entire property, making it easy access. Magazines, maps, and local recommendations are readily available in the living room to help you explore Seward.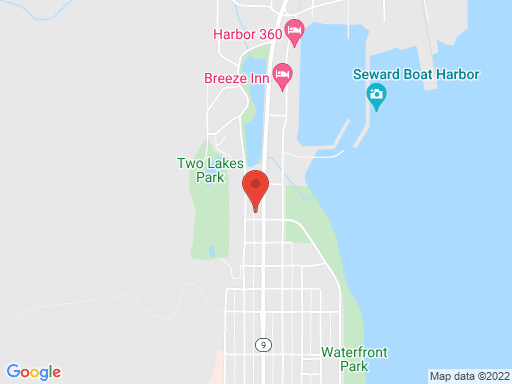 Choose a WWII Quonset hut for a memorable experience. It doesn't matter how long you will be staying; your comfort is guaranteed. This vacation home is suitable for a lovely couple, a family, or friends with a maximum of four persons. Or 6 if anyone wishes to sleep on our deluxe queen-size blow-up mattress.
Book your Quonset hut now for the best experience in Seward. You will always be eager to return to Seward and your personal vacation rental.
Moonshine Hut In Seward Alaska is you lodging in Seward Alaska.
Book your Place in Seward Alaska.